no, not me, I'm good.........just my recent sewing
A good start, blue scraps tipped out, ready to go
I decided I needed some help to keep me on track with my sewing, so what better way then to join in a challenge. I came across Angela's blog
soscrappy
where she runs a rainbow scrap challenge, giving us a different colour to work with each month. This is nearly the end of week 2, I wasn't quite quick enough getting organised for week 1, but going good now. Angela also gives a tutorial on a different quilt block for those that want to make sampler rainbows, but I decided simple's better for me, I'm more likely to keep up, and so I've made 7 wonky log cabins so far. These are 6 and half inches unfinished. Go
here
if you'd like to check out what everyone else is doing with their scraps....or join in!
I pulled out some ufo blocks as well, they're pretty much all blue, with a pop of red and mustardy yellow here and there, so they'll do just fine to add to my blue month tally.
String blocks - not all joined yet, some in pairs though
I made these string blocks about a year ago, planning to give the finished quilt to a friend's husband who had a stroke and now lives in a nursing home. I gave up on joining the blocks because I think I over-thought it all, trying to make sure same fabrics weren't close together, not too many reds clustered, it got too hard so I put it away. Last night I sewed blocks in pairs, just as they came out of the bag, and have layed them all out, ready for the next step. I just have to decide whether to make it single bed size, or wheelchair lap size, not sure which will be most practical. Maybe the bed size, I can't imagine Walter pulling the smaller quilt off the bed to tuck around himself......he can transfer himself from bed to wheelchair, so it's not as if a nurse will be helping and do it for him. It'll be nice and bright on his bed too.
In other sewing- some Christmas gifts I've not shown yet........
I filled a pretty jar with hearts for my friend Christine, wife of above-mentioned Walter. They're all different, but follow the red/cream theme, which she loves. Some are plain with just a little stitching, others patched and beaded. I added strings so she can hang them around the house if she wishes and pop a candle in the jar.......and she's done just that.
Stockings for a friend and her daughter....these were fun to do and filled with silly surprises
15 year old's crazy patched
Mum's - simple Scandinavian look
And lastly, a little prayer flag that doubled as a house-warming/Christmas gift
I've also decided to participate in this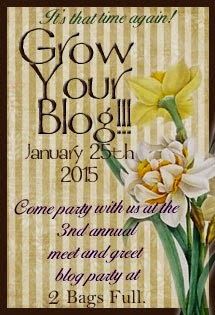 There's only a couple of days left to sign up, and you can do it
here
. This is a great way to find new-to-you blogs, and make lovely new bloggy friends. And a good way for
me
to keep my blog up-to-date!
....til next time